ubiLink Consultants
... when you are engaging outside knowledge workers
to add to the success of your team, more than anything else,
you are making a choice for the capabilities of those person[s]...
-- Doug Johnson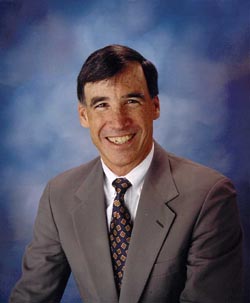 -- Review more about Doug Johnson --
In 2002 Doug Johnson founded ubiLink LLC after a 30 year career in the high tech semiconductor and computer industries. His background with EDA, MCAD, and UNIX Workstations at ever increasing management levels has given him a solid foundation from which to evaluate challenges and recommend solutions.
Since founding ubiLink, Doug Johnson is a business advisor to growing companies and an active volunteer in the community. He is also an affiliate professor for University of Northern Colorado where he teaches a course on Entrepreneuring. And he has lectured several times to CSU classes on various Entrepreneurship topics. He is author of a series of papers on cyclo-praxis, which explains how businesses and individuals can achieve peak performance by matching a worker's style to the maturity stage of the business. Doug is also a member of the Entrepreneurship Leadership Council for the Entrepreneurship Center at Colorado State University.
Mr. Johnson's EDA experience was gained at Mentor Graphics in their PCB solutions Division where he was Director of Marketing. He also had earlier experience with HP/Agilent Automated Test Equipment for in-circuit testing of PCB's. And, he was responsible for an early market study of robotic assembly of electronic assemblies.
Mr. Johnson's MCAD experience was gained at CoCreate Software Inc where he was Vice President and General Manager of mechanical engineering collaboration over the Internet. CoCreate's leading solution – developed under Mr. Johnson -- was voted Best-Product-of-the- Year in 1998 by Design News Magazine readers.
Prior to the experience with Mentor and CoCreate, Mr. Johnson had been with Hewlett-Packard for 22 years in a variety of positions with increasing responsibility. Most recently he was General Manager of HP's effort to decrease the cost of ownership associated with desktop PCs. HP had moved to make its internal solution [voted one of the top 10 software products of the 1990s] available as a semi-custom product.
Earlier, Johnson was responsible for business planning and development of $8B of HP's Computer Systems businesses. Key contributions included expanding HP's geographic reach into developing countries, strengthening the overall UNIX industry, and in exporting key advanced software technologies. Some of the public UNIX industry accomplishments include Common Desktop Environment and SPEC1170. Johnson also co-lead an internal HP SAP/R3 based reengineering program and redefined the paradigm for structuring and representing HP computer products. Other accomplishments within HP's computer business include successful planning of the product transitions associated with HP's acquisition of the Apollo workstation line, including the industry-leading HP/Apollo Series 700 workstation family. Prior to these strategic successes, Johnson managed the HP Series 300 UNIX workstation family through a sustained period of triple digit growth. In 1987 he was awarded the HP technical Computer Business Quality Award. Johnson's career at HP included assignments in other lines of business including instrumentation, services, and product research.
Prior to joining Hewlett-Packard, Johnson served 7 years with Motorola Semiconductors in Phoenix, Arizona. Formal training includes a BSEE degree from Rensselaer Polytechnic Institute and a MBA from Arizona State University.